Who are the faces behind the closed captioning administration team at TCG?  Where do the emails come from, who helps manage a 24/7 realtime show schedule, and how did they come to join the vibrant team at The Captioning Group?  Our Meet the TCG Team series showcase the members of our team who make the closed captioning of hundreds of thousands of realtime hours possible.  Discover more about the person behind the email signature!
Meet the TCG Team – Tamra Stretch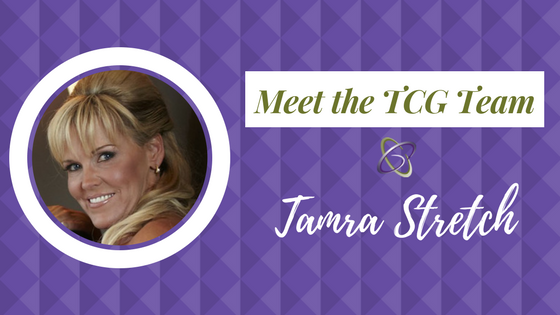 Discover 11 things about Tamra you never knew:
Graduated from NAIT's Court Reporting program, the only one in Canada recognized by the NCRA, with honours, early and at the top of her class
Tamra at NAIT Graduation Ceremony
Was the second court reporter in Canada to receive the CRR designation (the NCRA standard) in the early 90s
She decided early on in her career that she wanted to be her own boss…
Starting her business in court reporting when she was just 24 years old, she grew this start-up venture and branched into closed captioning in 1989, where it is now a leading North American closed-captioning provider
Tamra on a visit to the CBC studios
During a time when no formal training was available to her, she trained herself in closed captioning by watching endless amounts of live captions, dutifully studying the two closed-captioning books available at the time, and became one of the most accurate captioners on air at the time
Trained many captioners in the 1990s, many of whom are still active in the industry
Has overseen the production of hundreds of thousands of captioning hours in addition to too many transcript pages to count!
An animal lover, Tamra has two playful rescue cats named Archie and Figaro
Archie (bottom) and Figaro (top) cuddling
With a love for travel, she has been on over 20 cruises and has visited Mexico, Europe, Central and South America, many Caribbean Islands, and driven multiple times around Canada and the United States
Tamra kayaking in Puerto Vallarta
One of her first passions as a child was racing, bracket and quarter-mile racing. Tamra still loves cars and has participated in road course racing, including having driven the Nürburgring in Germany, and owns a collection of sports cars
Tamra's Lamborghini at a "Race the Base" event in Cold Lake, AB
Tamra loves opera and was trained as a classical pianist—she attends the Calgary Opera's productions each year, has been a major supporter for over 20 years, and has plans to see live opera at famous opera houses around the world…New York, Salzburg, and Vienna, to name a few.
We hope you enjoyed these fun facts about TCG's President, Tamra Stretch!  Please share this article if you enjoyed it.